Full Book Reviews
Welcome back friends! I have finally made it to Denver, Colorado after 2 long months of packing and selling our house. It has taken every ounce of brain power to leave one life behind and start another. I haven't had a chance to blog or much less read. My life has been boxes, packing tape, contractors, and goodbyes. It's nice to finally be a bit settled.
One of my first stops was the Arapahoe Library's Castlewood Branch for a new library card. This is a smaller branch that reminds me a lot of the Schweitzer Brentwood Branch Library in Springfield, Missouri. The layout is open and welcoming with lots of seating for all ages. I am in love with their maker-space and looking forward to using it now that I'm in a tiny one bedroom apartment. It was really easy to find things and all the librarians have been very friendly. Bonus: You get to choose the color of your library card!!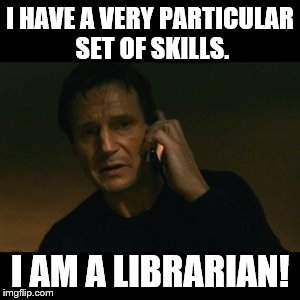 I'm taking a bit of a break from job hunting right now. My hubby joked that I'm a free range librarian. I'm looking at my options and taking my time with the search. It's hard to imagine having another library job that was as awesome as my last. I'm feeling a bit lost at the moment as I sit here writing this blog at the library. A huge part of me wants to be behind the desk helping patrons find books or planning a new teen program. For now, I think that I need some sleep and a few more weeks to get to know where I live! All good things are worth the wait.
So, what does this mean for Skipping through the stacks? I plan to do more book reviews and to revisit some of my library programs that I haven't had a chance to blog about. I'm also going to add some book promos for upcoming titles that I think my readers would love. I also might throw in a craft project or two! I am debating on changing the look of the blog again or even going pro. It's all up in the air, so be prepared for all of the above!
Finally here is a short list of books that I'm loving:
Read:
The Valiant By Lesley Livingston
Epic gladiator book featuring a kick butt female lead. Romance is a tiny bit predictable, but the twists and turns in this book kept me reading. Review to come.  4 stars
Currently Reading: 
Flame in the Mist vy Renee Ahdieh
Isn't this cover gorgeous?!! I just started this one and I'm already hooked. It's publish date is May 16, 2017. I'm so stoked that I got an egalley of this book. Thank you times a billion!! I loved Wrath and the Dawn and The Rose and the Dagger. Be sure to add this to your list of hot summer titles for fantasy readers.
TBR Pile: