Random thoughts
Online bullying- the post I never wanted to write
As many of you have noticed I've taken a pretty big break from blogging. This is mostly due to our moving adventure and a tiny bit due to events that happened in 2016. Every time I go to write a post or blog about a program or book my motivation disappears. I have lots of drafts sitting and waiting for me to post. Part of it is exhaustion and part of it is fear. Fear that I'm just starting to figure out. I know that there will be people who read this and think "good lord woman, get over it already." This post is not for you. It's part of the healing process and a way for me to pass on some valuable lessons I have learned about the world of online bullying.
Backstory – *Due to the nature of this attack I am not posting names or specific details
Last year (2016) I was working as a teen librarian in a midwest town. I loved finding ways to make the library an exciting place for our community and I loved programing fun events. Programming (in my opinion) is the best part of being a librarian! Unfortunately, during one of the programs I was helping plan, I became the target of a cyberbully that also took their hate and false information into the community.  The attempt to ruin my reputation and get me fired from my job was malicious. The attempt to bully me into doing what they wanted was also very scary. Because of all of this, I ended up filing a police report and staying off social media for several months.
This attack made me physically sick. It made me not trust anyone I came in contact with. It made me withdraw from social events that I had wanted to attend. It made me question every decision I made. Having your identity attacked and lies spread about your person is shocking and very overwhelming. However, in the midst of all the crazy there were good people who came alongside me and helped me navigate the mess. I also had great advice that I followed that made this a bit easier to deal with when all I wanted to do was all the wrong things.
National Statistics – 
We often hear about cyberbullying as it relates to kids. We don't really think about it happening to adults or we think that adults are better equipped to handle incidents. Unfortunately that is not always the case. October is National bullying prevention month and the following link has some pretty eye-opening statistics when it comes to adult bullying:
Despite this information there are very few studies in regards to adults. I found scores of great articles for teens and children, but the scholarly information for adults was very thin or unavailable. I did find some advice from the Cyberbulling Reseach Center  and No Bullying that is specific to adults dealing with this problem.
Feeling all the feels-
I hope that you never ever have to go through this, but if you do be prepared for some feelings. I've heard that bullying has a few stages that you might go through. For me this was very true. I went through several: Shock,  fear/paranoia, anger, revenge, and distrust.
Shock- You are going to likely feel blindsided by what is said to you. Online bullying tends to be way more malicious than when someone confronts you face to face. It's easy to hide behind a computer and say things that you would never say to someone in person. There is also a sense of detachment and a lack of consequences for bad behavior. It can completely throw you for a loop when an someone turns on you.
Fear- The nature of the attacks can be very hurtful and vicious. It is normal to feel afraid especially if you are unsure who the attacker actually is. NEVER let anyone try to convince you that your fears are wrong or that "it's fine and don't worry." Especially if the attacks are threats against your safety. Involve the authorities if you are feeling unsafe in your surroundings. If the attack happens at work or is affecting your job, let your supervisor know and make sure that HR is in on the details.
Anger and Revenge– Trust me when I say this you are going to get mad. It's human nature to get defensive when someone is attacking who we are or saying horrible lies about our person. You might even consider revenge or posting a nasty response. As angry as you are (I get it, I was in the same place) DO NOT post that nasty response. Online bullies expect to get a rise out of you. They want you to post that nasty comment back. Then they can use that as fuel to keep the attack going or twist your words to make it worse. As much as it goes against what you are feeling do not respond. I repeat do not respond. This was the best thing that I did.
Distrust– It might take you a while to trust people again. I know that I have periods still (a year later) where I don't trust anyone I meet. My advice is to talk to someone. A  family member or friend can be a start. If the feelings are getting worse or you are finding yourself depressed please seek out professional help. This is a great site to find help in your area: Find a Therapist
10 things to help deal with Cyberbullying: 
This graphic from the Cyberbullying Research Center has great advice and tips on how to navigate this issue: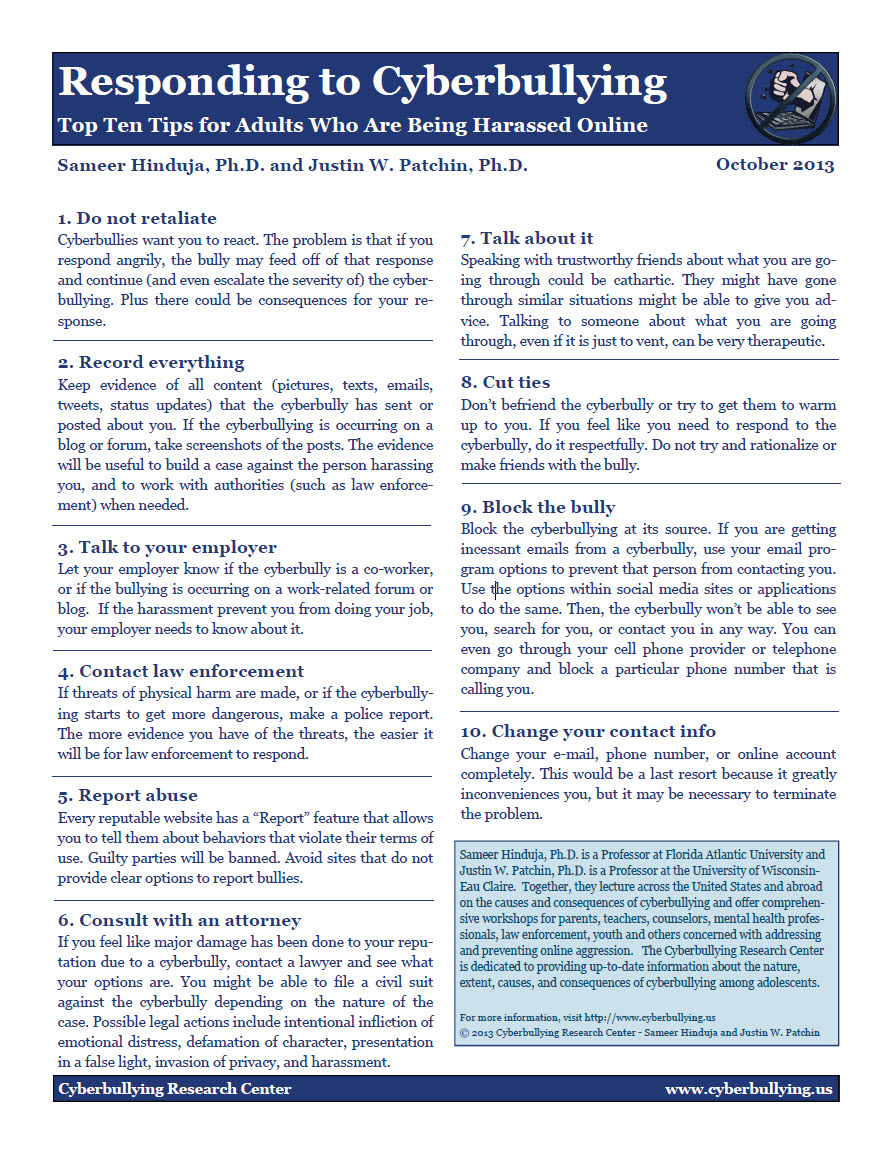 Other Advice that helped me-
One of the best pieces of advice I recieved was to get offline. I found myself constantly checking and rechecking every site that had things posted about me. I was getting stressed out and very upset. I decided to turn over all of my social media accounts to my husband and a trusted friend so they could monitor and screen shot any further abuse. I had them change my passwords so I could not log in to any of my social media accounts. I ended up taking a break for several months. Friends, this saved my sanity. It helped me work through the feelings I was having and helped me deal with the issue. It also got me away from all the crap that was happening online and away from the temptation to respond. Taking a break lets you think about things logically and make decisions that are not totally based on emotion. Taking a break also gets you away from the nasty and lets you focus on the good.
Responses that I was not prepared for-
Here is an ugly truth. You are going to get responses from people that just don't care, don't want to get involved, or just plain don't believe you. It will hurt, especially if it comes from someone you thought you could trust. This is why you need to be careful who you talk to. Because my bully(ies)  took it to the community, I had many people approach me about wanting details. I did my best not to say names and to keep it factual or refrain from discussing the incident at all. But, I'm also human and few times the emotion and that need to defend myself won out. Especially when I got told that because I didn't defend myself online then the rumors and lies must be true.
Look, you can't please everyone and that sucks. It's easy to want everyone to like us and believe us. Remember what I said above and the advice from the links. Attempting to defend yourself online can take an ugly turn and make it much worse. Plus, those people who don't believe you or who are victim blaming don't need to be in your life. It is much better for your heart and mind if you can limit their access to you. As much as it hurts you need walk away, set boundaries, or cut them out. If you have a counselor or therapist, discuss ways you can navigate these kinds of people. Remember you are worth protecting!
Final thoughts- 
After this incident I am much more aware of things that I post online. I also am working on limiting my consumption of social media. Especially the kind that is full of drama. I have deleted a few of my online profiles and walked away from Twitter and Tumblr to further distance myself from the constant negativity. I'm not saying that this is right for everyone. Social Media has its good points. However, it can also get ugly pretty quick. As a final note here is a link of ways to Prevent online bullying: Adult Bullying Prevention 
I hope that this never happens to any of you. If you are here because you have been bullied, I hope these tips help you get on the path to healing. Also, I am so sorry. Consider yourself virtually hugged. Finally, if you are at the end of your rope there are people out there who are willing to listen. Reach out. Your life is worth it and you are worth it.