Uncategorized
March Clean Sweep Reading Results
Last month I challenged myself and my readers to do a "Clean sweep" of their bookshelves. The goal of this challenge was to read 15 books on your TBR pile. I am happy to say that I nailed this one and read a total of 17 books!  I am really excited because I always seem to either run out time or energy before I finish any of the challenges I set for myself. This time I was able to read some of the books on my sadly neglected shelves. I still have a ridiculous amount to finish, but such is the life of a Librarian. So many books, so little time..
Here is a highlight of what I read in March: Feel free to friend me on Goodreads if you want to see more of what I am reading.
Salt to the Sea- By Ruta Sepetys
5 stars
This was my favorite book. Sepetys is a fantastic author and her historical tales are always a treat. This is no exception. 4 teenagers, 4 secrets, and one terrible event. I honestly (and a bit shamefully) have never heard of the wreck of the Wilhelm Gustloff during WWII. After reading this book I spent quite a bit of time researching this horrible tragedy. Sadly, there are not many books out there about the Wilhelm Gustloff. I recommend this article from Time about the book and her research.
This is a fantastic historical book that will break your heart.
 All the Feels- By Danika Stone
5 stars
This book was so much fun and one of my favorite romantic reads of 2016. Check out my review here.
 Famous Last Words- By Katie Alender
3.5 stars
Willa is seeing things… Ghostly images, dead bodies floating in a pool, sinister messages on the wall. Could these things be connected to the Hollywood killer that is murdering young women and putting their dead bodies into creepy scenes from a movie?
This one was pretty predictable for me. It still was an interesting story and I think that mystery lovers will still like it. It says horror, but it's pretty light.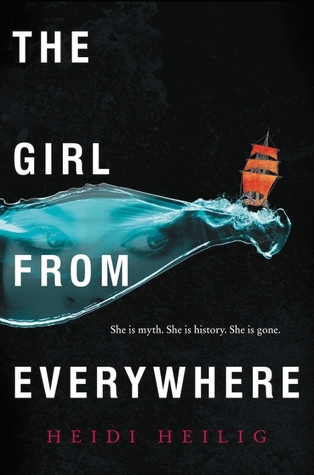 The Girl From Everywhere- By Heidi Heilig
3.5 stars
This book promises time travel, high seas adventure, and romance. While it does have all of those things, was expecting more. The time travel aspect is pretty low for a book titled "The Girl From Everywhere." I think that was my main disappointment. It is a good story and I did like the love interest and the mystery. I really really wanted there to be a ton of time travel and more adventure on the sea.
I can see this being popular with the Doctor Who crowd and with teens who like time travel.
 Deception's Pawn- By Esther Friesner
2.5 stars
This is the second book in of the Deception series that is set in  first century Ireland. For the most part I liked the first book. It had a good adventure with a strong female protagonist. This book  however, was not as good as the first. I felt like the whole book was just other characters constantly commenting on her beauty. Then there was the whole bullying aspect from the other girls. I really struggled to finish this one. It may have been my mood at the time. It is an okay finish to the series. It just doesn't have that wow factor that I was hoping for.
What were your favorites for the month of March? I would love to hear about them and maybe add a few more to my TBR pile! Stay tuned for my April Reading Challenge.