Full Book Reviews
Dark Disciple- Book Review (Spoiler alert)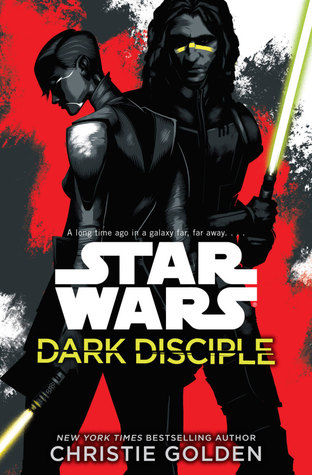 Dark Disciple
By Christie Golden
Publish date: July 7th, 2015
My rating: 4 stars
I was really really excited to get a galley copy of this title from Random House. Asajj is such a multi layered character and one of my favorite villains. I could not wait to get my hands on this book. Honestly, at first when I finished I was really disappointed. I was expecting more as far as action and original storytelling. But, there is only so much you can do with a book that has to fit within the monster timeline that is Star Wars. Some things are going to be predictable and frustrating no matter how the author spins them. It took a bit of thinking and some whining to a friend for me to sort out my feelings and get the point of this book.
It is not about the assassination of Dooku. It is not about Vos, the romance, or the constant Jedi blindness. It is a story about Asajj Ventress and her path to redemption. You get to see her on a deeper and more intimate level. You see a woman that has had the worst of life and has fought and clawed her way through existence. It is brutal and heart wrenching at the same time. It only adds to my love for this complex villain and her story.
*I am putting a soft spoiler alert for this review. I have tried really hard not to give too much away.
Walking the line between dark and light is a perilous path that only the strongest dare to take. When the Jedi council asks Jedi Quinlan Vos to undertake the assassination of Count Dooku, he will face temptation like never before. Paired with the former Sith Acolyte Asajj Ventress, they both will experience the power of the dark side like never before in this epic tale of betrayal based off un-aired episodes of the Clone Wars series.
Golden is an excellent writer and I have been looking forward to this book since I heard about its release last fall. Ventress is one of my favorite characters and I have been wandering what would be her fate after the Clone Wars series was cancelled. Quinlan Vos is a fan favorite from Dark Horse comics so I was interested in how these two who often flirt with moral ambiguity would work together. For the most part it worked.
For readers that are expecting non stop action this might not be what you are looking for. This book takes both of these characters and lays them bare for judgment. You get a detailed look inside their heads and see why they are the way they are. Ventress most of all. Her character study in this book is complex and brutal. It only solidified how freaking amazing and layered she really is. That being said I felt like Vos was lacking in attention. Readers who are not familiar with his backstory might not connect as well with him. I had trouble connecting with him during several key moments in the book. However, this was more of Vebtress story, her fall from grace, and ultimate redemption. That part was brilliant. Yes, I cried at the end. It wrapped up so many loose ends and I understand Ventress on a deeper level. Did I mention how freaking amazing her character is yet?
I wish that the plot was not so predictable. However, some of that could not be avoided because of the timeline history. You know going into this that Dooku will live. You know that the Jedi will do the right thing, even though you sometimes wish they wouldn't. The only other issue was the romance. It felt forced and out of character for Vos towards the end of the book. I get that he was entangled in the dark side but it just did not work for me. Other wise this would have gotten a solid 5 stars.
I recommend this book to those looking for a deeper glimpse into the enigma that is Asajj Ventress. This is her story… and what a tale it is.