Uncategorized
Yalsa's 2015 Hub Reading Challenge 1-8
I signed up for the 2015 YALSA Hub Reading challenge this year. My goal is to at least read 25 books off the 3 page list. The challenge ends in June so I have a few more months to complete my goal. While I would like to read all of them, I do need to maintain my sanity and keep up with the review copies that I have received from publishers. To keep myself accountable I thought I would post a few thoughts about each book I have read off the list. So far several have been really good and it was nice to go back and read some old favorites.
The first 8
1. William Shakespeare's Star Wars Collection– I had the chance to review two of these a few years back and I absolutely loved them. They are a great twist to the traditional prose. The best was hearing R2D2's thoughts about C-3PO. He is one snarky little dude. I need to check them out as an audiobook for the full effect. Although several of our library pages like to read snippets while shelving books. It's always entertaining!
*Several teachers request these books to go with their Shakespeare units.
2. The Jackaby- If you are a fan of Sherlock and like a good mystery, Jackaby is very entertaining. Imagine Sherlock with a supernatural twist. It has been promoted as Sherlock meets Doctor Who and I can see a bit of the comparison. Thankfully I only found that out after I read the book or it may have colored my reading experience. (I hate when publishers compare popular shows to books. Huge pet peeve.) It was a fun and lighthearted read with a good female lead. I would recommend this to teens looking for a quick and fun mystery.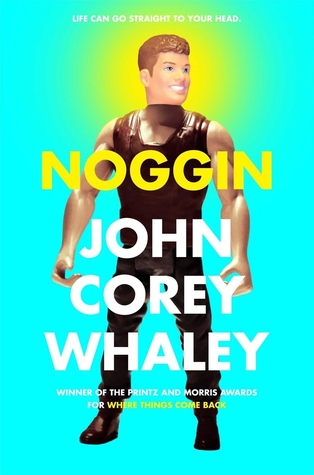 3. Noggin– I went into this book expecting more of a sci-fi feel and was hugely disappointed. It does have the whole kid dies of cancer has head frozen and placed on another body 5 years later thing going for it. However, after 20 or so pages it's not the main part of the story anymore. It morphs into the typical teenage angst fest with a tiny sort-of lesson thrown in for good measure. The main character cannot seem to move on from the fact that the girl he was dating when he was frozen is now older and has very much moved on. His constant whining and attempts to get her back drove me nuts. While it was very underwhelming for me, lots of teens have liked this book and it circulates very well at our library. Just not even remotely sci-fi.. very disappointed.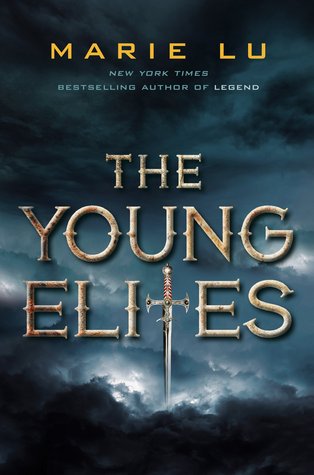 4. The Young Elites– I got to meet the author at ALA last summer and was very intrigued by her description of this book. Two works – Very dark. It is a villain origin story and there are no happy endings to be found in the pages. That being said it was oddly refreshing.  By the end of the book the main character has taken a very dark turn and I can totally understand why. While it wasn't a personal favorite, I do want to read the next book in the series.
5. The Story of Owen: Dragonslayer of Trondheim– This is a very quick read and I liked it a lot more than I expected. Dragons are regularly ravaging the world and slayers are trained to deal with them. In comes Owen and his bard Siobhan, who narrates the whole story. The first two chapters are what really sold me on this book. They are very lyrical and the whole story feels almost like modern prose. I have recommended this to a few die hard dragon fans and teens looking for a different kind of fantasy book without the sappy romance.
6. The Scandalous Sisterhood of Prickwillow Place– TOO MANY ADJECTIVES! Oh my gosh this book drove me nuts! Every girl has an adjective in front of her name and it is used throughout the whole entire book. It becomes annoying after about 20 pages. However, it is unfortunately, the only way you can distinguish between the characters who are otherwise flat and rather uninteresting. The only thing that I like was the fact that I didn't peg the killer immediately. That was refreshing. That was the only thing I liked about the book except maybe the dog. I honestly don't know of any teens I can recommend this too. Maybe it is better as an audiobook, but there is no way I am going to listen to it.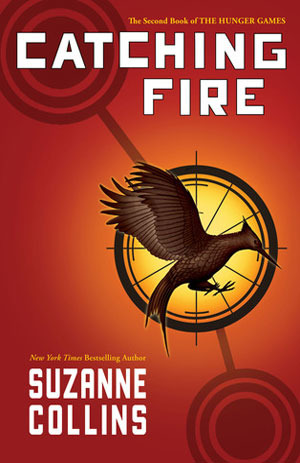 7. Catching Fire– In my opinion this was the best out of the trilogy. The whole rebellion and the darkness of the story stand out the best in Catching Fire. There is not much more to be said about this series. It was good to visit the characters again. It is still very popular with teens due to the movies.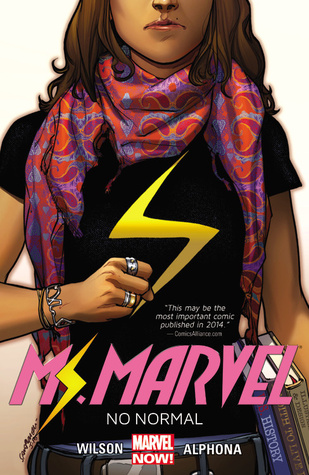 8. Ms. Marvel: No Normal– I have been wanting to read this one for a long time. It is always checked out at the library and there is currently a pretty substantial waiting list. It is pretty good. I like this version of Ms. Marvel. It had some controversy because she is Muslim but I honestly don't see it. I think it's refreshing and I will be recommending this to lots of readers. I love that she strikes out on her own and becomes her own version of Ms. Marvel and not the cookie cutter, boobalicious version. A great read for teens and adults looking for superhero in clothing who stays true to herself.
Are you taking the challenge? I would love to check out other librarians thoughts about books on this list. Give me a shout out and a link to your blog. I promise to check it out!