Random thoughts
Librarian Confessions
If you have not seen this article yet, get ready for a giggle. Flavorwire posted 10 Librarians and their most shameful confessions. I admit some of these hit a bit close to home. I too have been shushed by patrons. Check it out:
I decided after reading them to list a few of my deep dark librarian secrets. Here are three in no particular order. I have more but those will only be confessed to close librarian friends after a few glasses of wine!
1. I frequently don't use bookmarks or use things like pens, pencils, receipts, and once a bird feather to mark my place. At least I don't use band-aids or condom wrappers. (I have seen both in returned books..ew)
2. I have more overdue books now as a librarian than I did when I was not. One of my job perks is not having to pay overdue fines.. which makes me forgetful. Bad Librarian.. No cookie for you!
3. I binge read more Fan Fiction stories than actual books during certain times of the year. (Yeah.. I really should get on that new award nominee pile soon.) Okay, in my defense some of it is actually quite good. However, there have been a few nights of reading that have lead to this: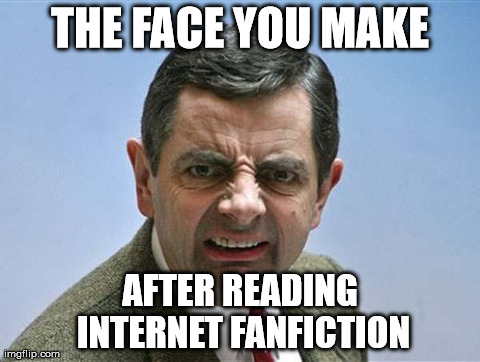 So fellow bloggers, what are your Librarian Confessions? Post them below or link up with your blogged answers. I can't be the only one that forgets bookmarks, due dates, and good literature!